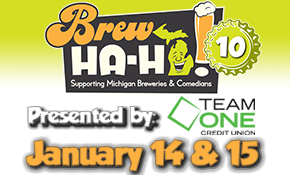 10th Brew Ha-Ha!

10th Brew Ha Ha
Saturday, January 15, 2022 at 5:00 p.m.
CLICK HERE FOR VENUE COVID-19 POLICY & PROCEDURES
The 10th Brew Ha Ha returns with more than 40 breweries and 160 styles of beer, cider and meads plus 2 comedy shows held in The Dow Event Center Theater.
ALL ATTENDEES MUST BE 21+ YEARS OF AGE TO ENTER
1st Comedy Show Line-Up (Theater Doors Open At 6:30 p.m.)
To be announced
2nd Comedy Show Line-Up
To be announced
DJ entertainment provided throughout the event.
Venue Presale: Wednesday, November 24, 2021 at 10:00 a.m. – 10:00 p.m. Venue Presale tickets will be available online only at Ticketmaster.com with the presale code. Join our email list to receive the code and ticketing link.
On Sale: Friday, November 26, 2021 at 10:00 a.m.
Tickets on sale to the general public will be available at Ticketmaster.com or in person at The Dow Event Center Box Office. The Dow Event Center Box Office is currently open Thursdays 10:00 a.m. – 2:00 p.m. and Fridays 10:00 a.m. – 5:00 p.m. Please visit external window #2 during that time.
Ticket Prices:
General Admission:  $25.00
– Souvenir pint glass
– 6 beer sampling tickets
– Access into both comedy shows
VIP Package (4:00 p.m. – 6:00 p.m.):  $49.00
– Early entry at 4:00 p.m. for exclusive access to beer sampling
– Souvenir pint glass
– 6 beer sampling tickets
– 6 additional unique beer samples
– Q & A with craft brewery experts (5:00 p.m. – 6:00 p.m.)
– Access into both comedy shows
Designated Driver:  $15.00
– Free fountain pop refills
– Access into both comedy shows
* Only available to purchase in person at The Dow Event Center Box Office
* Only available to purchase November 26, 2021 at 10:00 a.m. – January 14, 2022 at 5:00 p.m.
*Additional fees may apply when purchased through Ticketmaster. Prices listed are when purchased in person at the Dow Event Center Box Office.
*Prices vary by seat location. Prices are subject to change based on supply and demand.
Beer Sampling Tickets:
1 Sample Ticket = 1 Beer Sample
3 Sample Tickets = 1 Mead Sample
8 Sample Tickets = Full Beer Pour
*Additional beer sampling tickets will be available for purchase at the event. $1 = 1 beer sampling ticket.

*Sample ticket sales will end at 9:30 p.m. Last pour is at 10:15 p.m.
INTERESTED IN GOING TO FRIDAY'S TASTING? CLICK HERE.
Improvements Coming To The Dow Event Center Parking Ramp
To improve your entertainment experience, The Dow Event Center is in the process of renovating its parking structure across from venue. These capital improvements include repairing and replacing the elevators and lighting, and performing structural upgrades to the parking ramp.
While this is in progress, parking will be available at the following locations:
Dow Event Center front lot, 303 Johnson
400 lot across from The Dow Event Center, 400 Johnson
Delta College Lot, corner of Jefferson and Johnson, .1 miles, 3 minute walk
Commerce Tower, 515 N. Washington, .3 miles, 6 minute walk
Michigan Works, 312 E. Genesee, .3 miles, 6 minute walk
Credit cards are now accepted!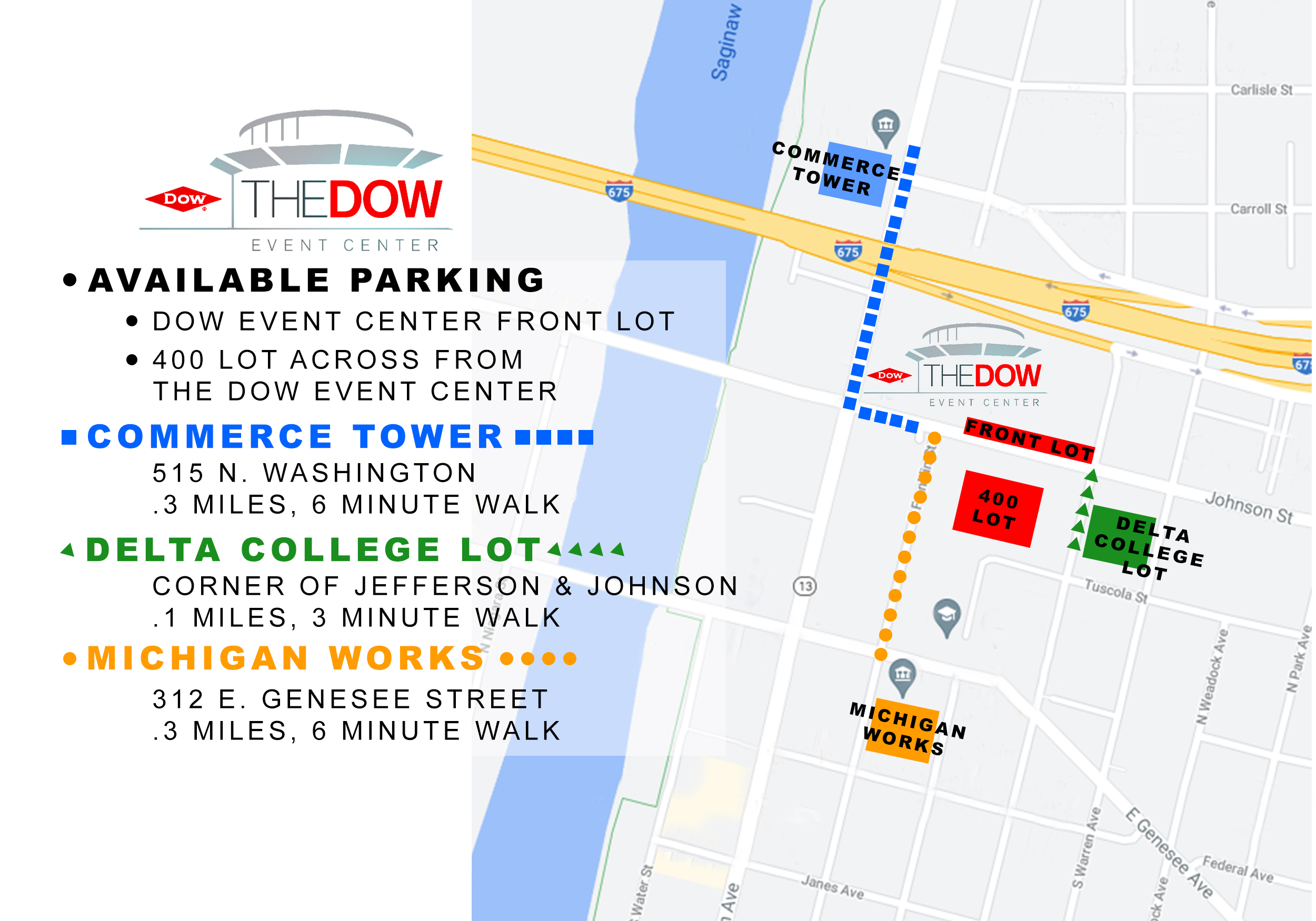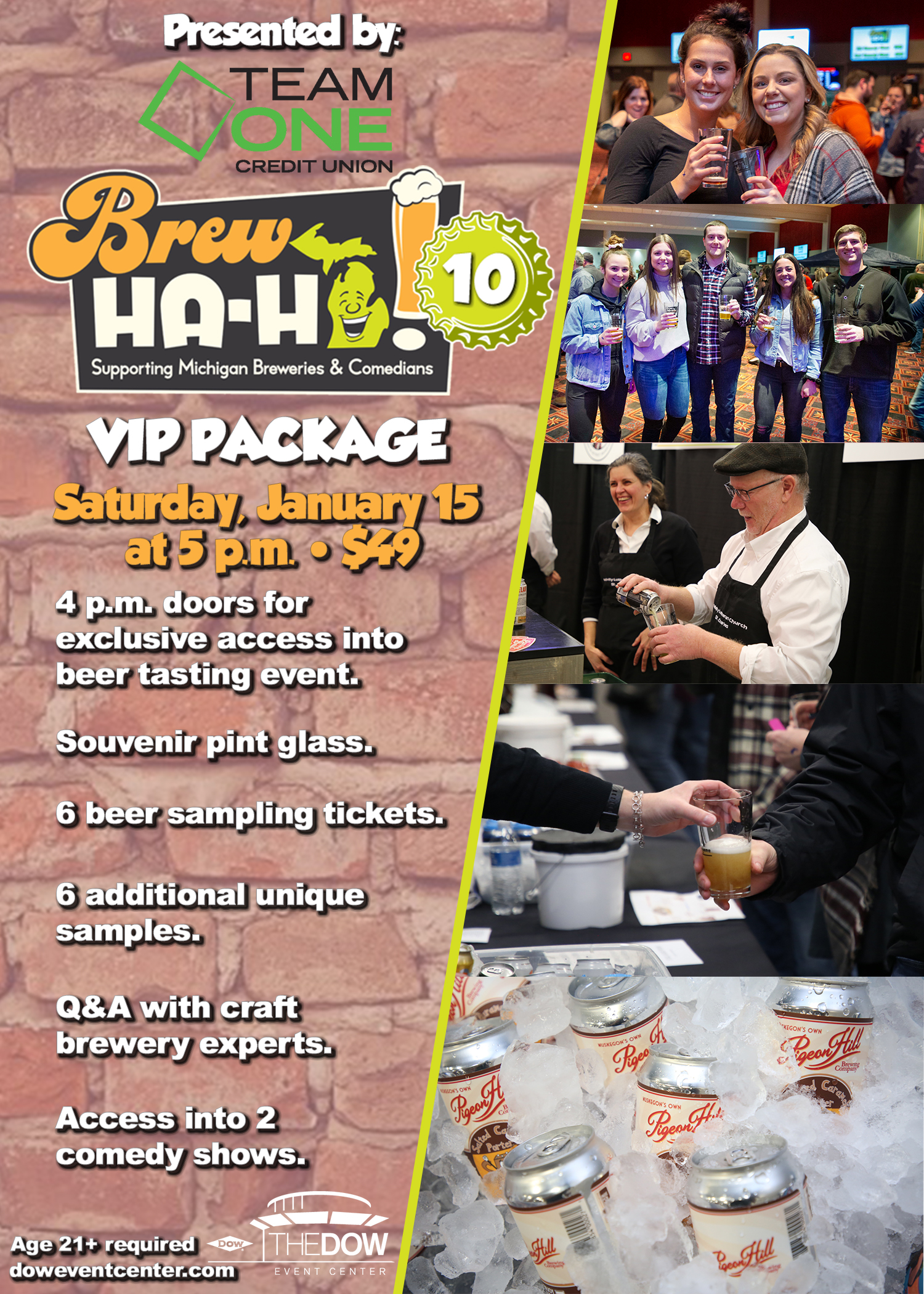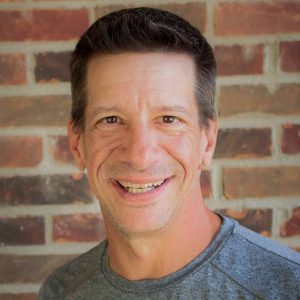 Kevin Kramis (7-7:15 p.m. & 9-9:15 p.m.)
Who is 5'3″, runs an 8 minute mile, has performed for the US troops on the Comics on Duty Tour in places like Bahrain, Djbouti & Greece and also announces baseball for the Detroit Tigers? It's the Famous Kevin Kramis!! Noted for his universal appeal, with stage presence and off-beat improvisations that captivate and involve audiences. Kevin works successfully before all kinds of folks from mature, discerning audiences at outdoor venues like DTE to the inmates at the super-maximum security prison in Mansfield, Ohio.
Kramis has opened for Tim Allen, Louie Anderson, Kato Calin Jeff Foxworthy, Judy Tenuta, Gabe Kaplan, Richard Jeni, Billy Gardell, Pointer Sisters, Michael Feinstein, Three Dog Night, Brian Setzer Orchestra, JJ Walker, Tim Lilly, John Hefron, Steven Wright, Jeff Hobson, and Ben Creed.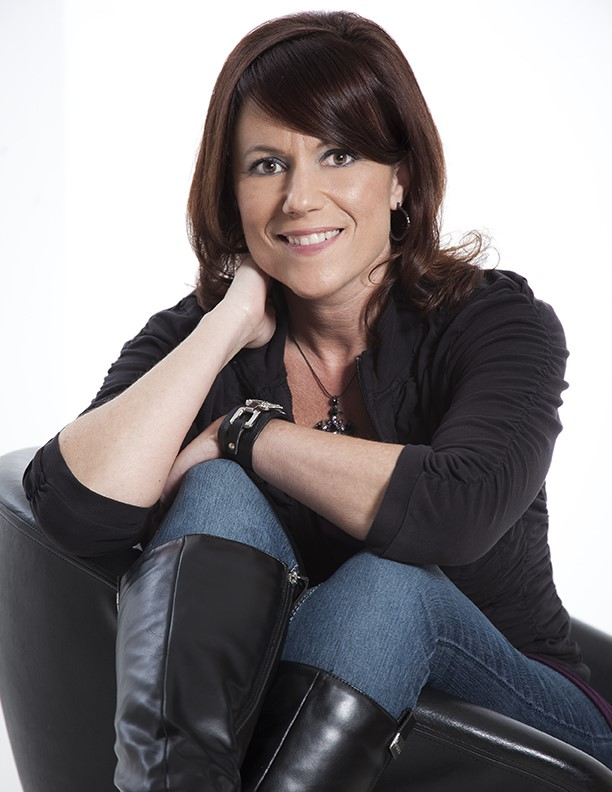 Tonya Murray (7:15-7:40 p.m.)
Tonya Murray has opened for numerous national headliners including Dave Attell, Jeff Ross & Jim Norton and she's been seen at Gilda's Laughfest and top clubs across the Midwest. She has a sarcastic and biting style of comedy that includes crisp and hilarious writing with deadpan delivery that leaves you rolling in the aisles. Not your typical female comedian, her act is a refreshing change from the norm.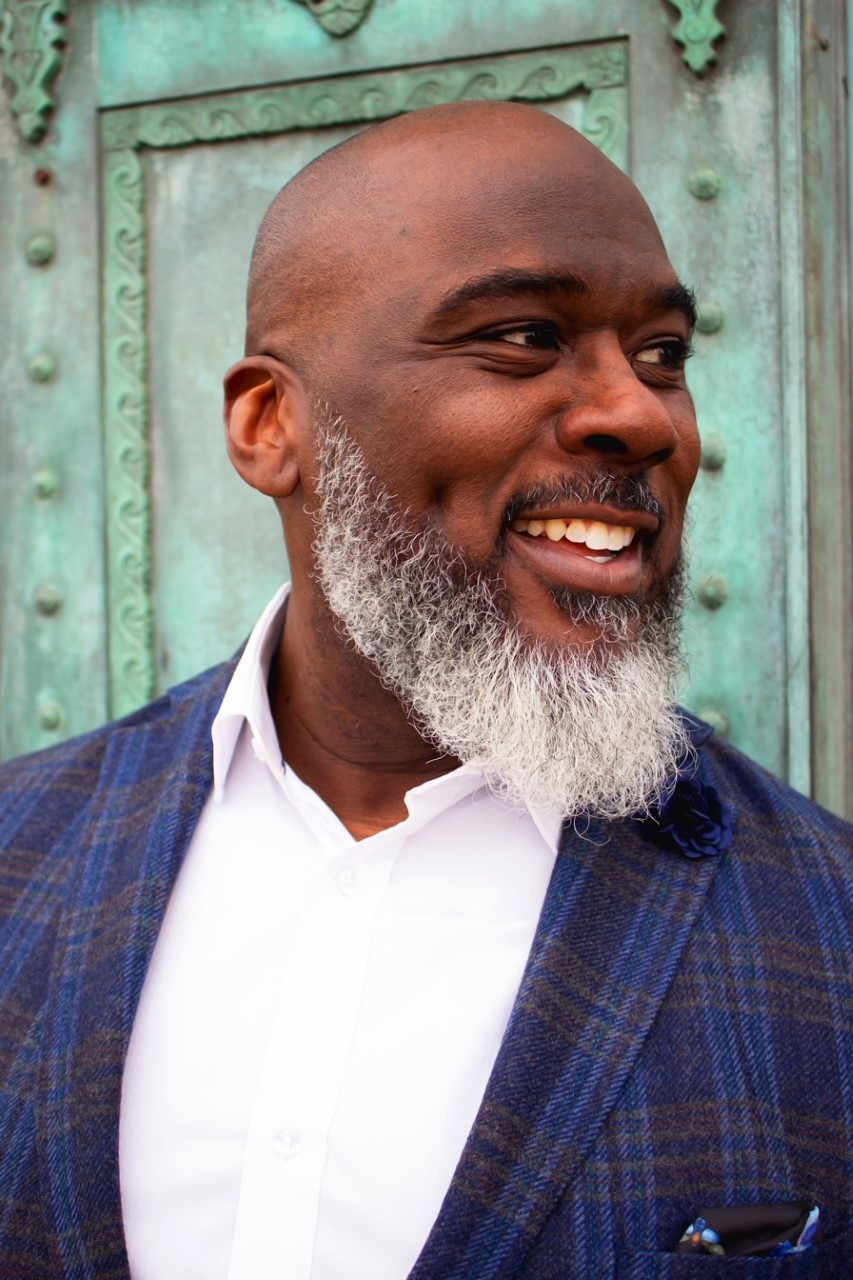 Mike Geeter (7:40-8:30 p.m.)
As an Ivy League dropout and community college graduate from Pontiac, Mike brings a pointed look at life, family, and relationships that few others can…or should. From his upbringing in a family with 17 children to discussing his life as a father, Mike's comedy is jagged wit mixed with a smooth delivery. Mike has worked in some of the finest comedy venues in the country to work with mainstream comedians as Kevin Hart, Hannibal Burress, Jim Norton, Artie Lange, Rickey Smiley, and Natasha Leggero to name a few. Mike was featured on Hulu and Fox Television's comedy showcase "Laughs" (Season 1) and the Detroit episode of "Kevin Hart Presents: Hart Of The City 2" on Comedy Central (Season 2).
Mike's first full length comedy CD "The Charm Offensive" available on all digital platforms.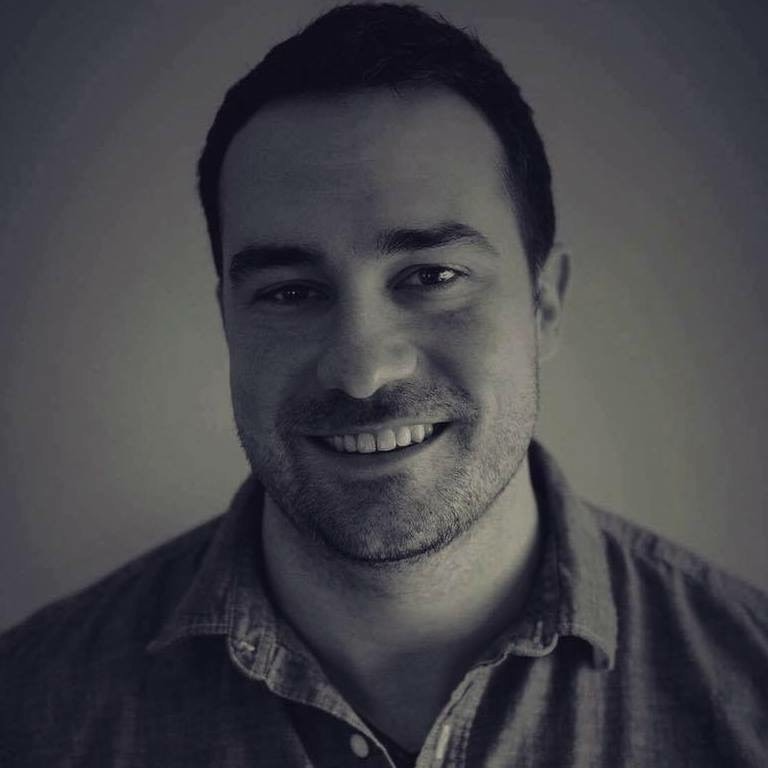 Jim Eliot (9:15-9:40 p.m.)
Jim is a veteran regional comedian and entertainer. He has performed all over Michigan at premiere venues such as LaughFest, Mark Ridley's Comedy Castle, Skyline Comedy Club, Ann Arbor Comedy Showcase, The Comedy Shrine, Big Tommy's Comedy Club, and the Holly Hotel. Jim verbally paints pictures of the obscure everyday life of the American male going through a third-life crisis with animated characters, and plenty of wit.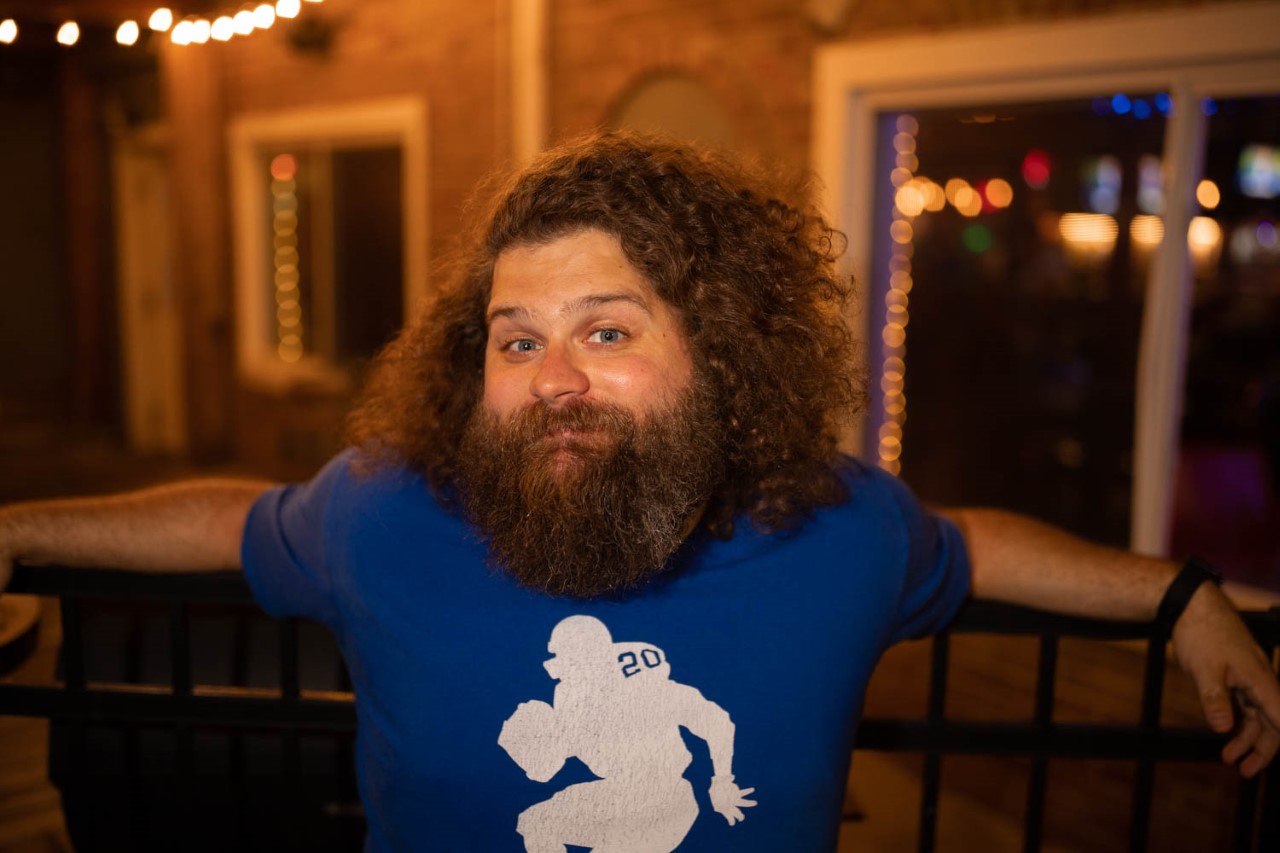 Zach Martina (9:40-10:30 p.m.)
My name is Zach Martina & if you're reading this then you made a conscious decision to learn a little more about me so here goes:
I don't enjoy long walks on the beach at sunset because sand in my shoes bothers me, my cardiovascular endurance is awful & sunset is when the mosquitos come out. I am not looking for someone with a great sense of humor rather, I seek the right sense of humor. However, the most important thing is, and I cannot stress this enough, I have a wife & 2 daughters whom I love very much so I'm not interested in anything romantic.
Sure, I've performed in festivals that include 10,000 Laughs, & the Best of the Midwest at Gilda's Laughfest. And yea, I've had the good fortune of opening up for some of my favorites including Rory Scovel, Chad Daniels, Big Jay Oakerson & the Sklar Brothers. Then, of course, thereare also my 2 albums (Skunkman & Not the Worst Dad) that hit number 1 on the comedy charts but none of that really matters.
All that matters is that, in reading this, it was enough to convince you to give me a chance; to attend a show, to listen to an album and/or follow me on social media. If it wasn't, that's ok too because now you've wasted your time & the last laugh is mine.