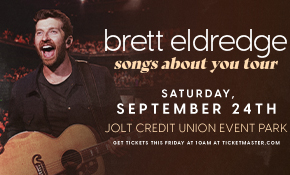 Brett Eldredge

Brett Eldredge with Special Guest Caylee Hammack
Songs About You Tour
Saturday, September 24, 2022 at 7:30 p.m.  |  Gates at 6:00 p.m.
Jolt Credit Union Event Park

CLICK HERE FOR VENUE COVID-19 POLICY & PROCEDURES
With his critically acclaimed fourth studio record, country superstar Brett Eldredge takes fans on an unforgettable outing with his new album Sunday Drive. Joined by GRAMMY-winning producers Daniel Tashian and Ian Fitchuk, he journeyed to Chicago's intimate Shirk Studios, where the album came to life. As a mental health advocate, Eldredge pulls from a personal place with the single "Good Day," which brings the message of keeping a healthy mindset. "Good Day" follows the wistful, piano-driven lead single "Gabrielle," which made its TV debut on The Late Show with Stephen Colbert and has been called "a breath of fresh air" by Rolling Stone. Having added a seventh country radio No. 1 to his name with "Love Someone," the critically acclaimed entertainer filled arenas on his first ever sold-out headlining The Long Way tour, which included performances of his Gold and Platinum-certified singles spanning four albums. His highly celebrated Christmas album Glow debuted at No. 2 on the country charts and featured the Billboard Adult Contemporary and Holiday Music Chart-topping duet "Baby, It's Cold Outside" with Meghan Trainor. In 2016, the album inspired a single live holiday show in Nashville, which has now grown into the annual Glow LIVE holiday tour, hitting major cities across the US. He continues to bring holiday cheer with his new duet "Under The Mistletoe" with Kelly Clarkson and "Baby, It's Cold Outside" (Latin Version) featuring Sofia Reyes, both available everywhere now.
Venue Presale: Thursday, May 19, 2022 at 10:00 a.m. – 10:00 p.m.
Venue Presale tickets will be available online only at Ticketmaster.com with the presale code. To receive the presale code, please sign up for our free email newsletter at https://bit.ly/2LC76Y2 or download our free mobile app and enable push notifications by Wednesday, May 18, 2022 at 11:59 p.m. Our mobile app is available to download on the App Store for IOS devices and on Google Play on Android devices. The Venue Presale code will be released via email when the presale begins (May 19th at approximately 10:00 a.m.).
On Sale: Friday, May 20, 2022 at 10:00 a.m.
Tickets on sale to the general public will be available at Ticketmaster.com or in person only at The Dow Event Center Box Office on Thursdays from 10 a.m. – 2 p.m. and Fridays 10 a.m. – 5 p.m. at external window #2.
Ticket Prices: $37.00 (General Admission Lawn – No Seats)  |  $51.50 (Reserved Seating)  |  $77.00 (Reserved Seating)  |  $97.00 (Reserved Seating)
Aisle Seats: $61.50 (Reserved Seating)  |  $87.00 (Reserved Seating)  |  $117.00 (Reserved Seating)
*Additional fees may apply when purchased through Ticketmaster. Prices listed are when purchased in person at the Dow Event Center Box Office.
*Prices vary by seat location. Prices are subject to change based on supply and demand.
*Blankets & lawn chairs welcome at Jolt Credit Union Event Park.
*"Rain or Shine" Compact Umbrellas allowed
*NO Pointed Tip Umbrellas and NO Coolers!