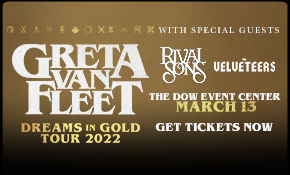 Greta Van Fleet- Dreams In Gold Tour

Greta Van Fleet: Dreams In Gold Tour
Sunday, March 13, 2022 at 7:00 p.m.
The Dow Event Center Arena
Venue Presale: Thursday, November 11, 2021 at 10:00 a.m. – 10:00 p.m.
Venue Presale tickets will be available online only at Ticketmaster.com with the presale code. To receive the presale code, please sign up for our free email newsletter at https://bit.ly/2LC76Y2 or download our free mobile app and enable push notifications by Thursday, November 11, 2021 at 9:59 a.m. Our mobile app is available to download on the App Store for IOS devices and on Google Play on Android devices. The Venue Presale code will be released via email when the presale begins (November 11th at approximately 10:00 a.m.).
On Sale: Friday, November 12, 2021 at 10:00 a.m.
Tickets on sale to the general public will be available at Ticketmaster.com or in person only at The Dow Event Center Box Office. Our box office is open every Thursday from 10:00 a.m. – 2:00 p.m. and Friday 10:00 a.m. – 5:00 p.m. Please visit external window #2 to purchase your tickets during that time.
Ticket Prices:  $49.50  |  $59.50  |  $69.50
*Additional fees may apply when purchased through Ticketmaster. Prices listed are when purchased in person at the Dow Event Center Box Office.
*Prices vary by seat location. Prices are subject to change based on supply and demand.
The Event Organizer is requiring fans agree to the terms below prior to ticket purchases & event entry. Please note these confirmations will apply to all members of your party before they are allowed to enter the event and to any users of the tickets purchased by you.
By purchasing tickets for this event, you must confirm that at the time of the event you will have received a negative COVID-19 test (generally 48 to 72 hours before the event), OR be fully vaccinated against COVID-19 (14 days past final vaccination shot). Children under 12 years of age may be required to take a COVID-19 diagnostic test (generally within 48 or 72 hours prior to the event) and provide proof of negative result prior to entering the venue.  
Mask wearing will be encouraged. Entry requirements are subject to change.