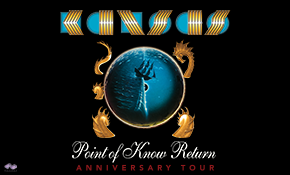 Kansas: Point Of Know Return 40th Anniversary Tour

Kansas: Point of Know Return 40th Anniversary Tour
Sunday, March 6, 2022 at 7:30 p.m.
The Dow Event Center Theater
CLICK HERE FOR VENUE COVID-19 POLICY & PROCEDURES
Kansas is bringing their Point Of Know Return 40th Anniversary Tour to the Dow Event Center on Sunday, March 6, 2022. With a legendary career spanning nearly five decades, KANSAS has firmly established itself as one of America's iconic classic rock bands. This "garage band" from Topeka released their debut album in 1974 after being discovered by Wally Gold, who worked for Don Kirshner, and have gone on to sell more than 30 million albums worldwide.
Composing a catalogue that includes sixteen studio albums and five live albums, KANSAS has produced eight gold albums, three sextuple-Platinum albums (Leftoverture, Point of Know Return, Best of KANSAS), one platinum live album (Two for the Show), one quadruple-Platinum single 'Carry On Wayward Son,' and another triple-Platinum single 'Dust in the Wind.' KANSAS appeared on the Billboard charts for over 200 weeks throughout the '70's and '80's and played to sold-out arenas and stadiums throughout North America, Europe, and Japan. 'Carry On Wayward Son' continues to be one of the top five most played songs on classic rock radio, and 'Dust In the Wind' has been played on the radio more than three million times!
The summer of 2020 marked the release of "The Absence of Presence," KANSAS's sixteenth studio album, which debuted at #10 on Billboard's Top Current Albums chart.  The wide-ranging progressive rock album, released by InsideOut Music, follows-up 2016's "The Prelude Implicit," which debuted at #14 on Billboard's Top 200 Albums chart. Throughout 2016-2017, the band celebrated the anniversary of breakout album "Leftoverture" with the highly successful KANSAS: Leftoverture 40th Anniversary Tour. That tour was released in 2017 as a live album, "Leftoverture Live & Beyond." Since 2018, KANSAS has followed that tour with the even more successful KANSAS: Point of Know Return Anniversary Tour. That tour was captured as a 2021 live album, "Point of Know Return Live & Beyond."
The band is currently comprised of original drummer Phil Ehart, bassist/vocalist Billy Greer, vocalist/keyboardist Ronnie Platt, violinist/guitarist David Ragsdale, keyboardist/vocalist Tom Brislin, and original guitarist Richard Williams. With no signs of slowing down, KANSAS continues to perform in front of large and enthusiastic audiences around the world. Along with constant touring, KANSAS continues to remain a fixture of Classic Rock radio. The band has reached a whole new audience through their unmistakable presence on the popular video games Rock Band, Guitar Hero, and Grand Theft Auto; the band's documentary film "KANSAS: Miracles Out of Nowhere" airing on AXSTV; and through their songs' inclusion in various television shows such as 'Supernatural,' 'South Park,' 'The Office,' and 'The Simpsons;' and with films including 'Old School,'  'Anchorman,' and 'Happy Gilmore.'
For more information on KANSAS and the Point of Know Return Anniversary Tour, please visit: www.kansasband.com |www.facebook.com/kansasband | www.twitter.com/kansasband
Venue Presale: Wednesday, October 6, 2021 at 10:00 a.m. – Thursday, October 7, 2021 at 10:00 p.m.
Venue Presale tickets will be available online only at Ticketmaster.com with the presale code. To receive the presale code, please sign up for our free email newsletter at https://bit.ly/2LC76Y2 or download our free mobile app and enable push notifications by Wednesday, October 6, 2021 at 9:59 a.m. Our mobile app is available to download on the App Store for IOS devices and on Google Play on Android devices. The Venue Presale code will be released via email when the presale begins (October 6th at approximately 10:00 a.m.).
On Sale: Friday, October 8, 2021 at 10:00 a.m.
Tickets on sale to the general public will be available at Ticketmaster.com, Ticketmaster by phone 1-800-982-2787 or in person only at The Dow Event Center Box Office. Our box office is open every Thursday from 10:00 a.m. – 2:00 p.m. and Friday 10:00 a.m. – 5:00 p.m. Please visit external window #2 to purchase your tickets during that time.
Ticket Prices: $60.50  |  $70.50  |  $80.50 |  $110.50
Aisle Seat Prices: $70.50  |  $80.50  |  $90.50 |  $130.50
*Additional fees may apply when purchased through Ticketmaster. Prices listed are when purchased in person at the Dow Event Center Box Office.
*Prices vary by seat location. Prices are subject to change based on supply and demand.